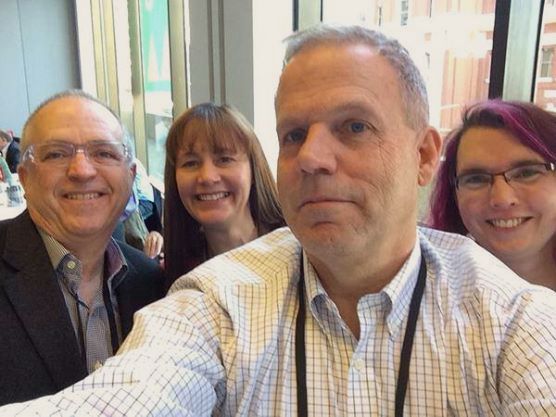 Participant generated selfies from the 2014 Data Leadership Summit
It is with some reservation that we embraced the concept of the Selfie Contest. While we generally try and stray away from the oh so in the now OED Word of the Year, we rationalized the use of the selfie in the name of network science.
Let's start with the goals before tactics. Our goal at the Summit was to build as many new relationships as possible over the course of the day. We already knew who was connected to who through both survey data and LinkedIn connections. Our hope was to build connections across these three clusters (blue, black and green) and bring those individuals on the periphery more to the middle through new connections.
State of the network before the Summit
We designed the Summit to facilitate this network building. As organizers, we were interested in how that network map would change shape based on new connections formed during the Summit (a kind of organizer ROI). Our challenge was how to acquire the data that would reveal new connections made during the Summit. Yes, we could send another survey asking people to say who they had met, but knew that response rates would likely be <50% and recall may not be 100%.
So, instead we decided to embark on an experiment to use photography as network data. The essence being that we would capture as many images as possible of diads (one individual speaking to another). These diads form edges for our new network map. While we tasked a professional photographer with capturing these diads, we also wanted to inspire all Summit attendees to capture them as well (in addition to bringing some fun and casualness to the event).
We know everyone had fun participating, and really appreciate those attendees who really embraced our selfie challenge. Thanks to everyone for your willingness.
The winners of the Four Seasons gift cards are:
Eugen Klein (@eugenklein), Klein Group
Hans Peter Meyer (@hanspetermeyer), Startup Week Vancouver
More selfies can be found on our Facebook page. By late next week we hope to have new network maps drawn based on this photographic data.